Norman Estates
Norman Estates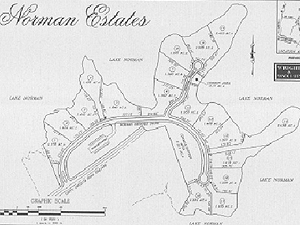 Norman Estates epitomizes exclusivity in an estate style enclave that spares no details providing luxury in a serene riparian setting. Located in the small hamlet of Denver, North Carolina, Norman Estates is comprised of a small grouping of highest end luxury housing on the shore of gorgeous Lake Norman. This exclusive enclave is housed in a private, gated community that offers the finest water views on the lake.
A quick ride from the new Route 16, this community provides ease of access to downtown Charlotte. The city is an easy commute and living in Norman Estates allows a select few to enjoy a peaceful country estate life while continuing to enjoy all the amenities and advantages that the city offers, including nightlife, entertainment, theatre, sports, and of course, fine dining and shopping. Hop on I-77 and be in uptown Charlotte in just minutes.
Homes in Norman Estates range in price from $1.5 million to $4.5 million and all offer either wooded, waterfront or water view lots. From January 1, 2014 through the present, the average price for sales in Norman Estates, per the MLS is  $2,413,500. Square footage ranges from approximately 6000 to 17,000 square feet. Lots average from between 1 acre to approximately 1.7 acres.
Just a quick drive from home, residents of Norman Estates will find all the conveniences on Highway 16 in Denver. A quick Google search will reveal more than thirty restaurants that are literally minutes from the community. From casual to fine dining, every cuisine and taste is available.
For great local atmosphere and classic American cuisine in an upscale, yet casual environment, a great choice that is less than ten minutes from Norman Estates, is Chillfire Bar and Grill. Chillfire has more than 134 reviews on the popular travel site, Trip Advisor and the rating is great – almost a perfect score! Joey's Fine Dining is another great spot. Westlake Family Restaurant has a great breakfast and Savory Plum Café & Bakery has great sweets!
But if you're not a foodie there's still plenty to entertain all types in the lake area. Lake Norman offers great outdoor entertainment, both on the water and off. There's, of course, boating and water sports, but the area is great for shopping, nature walks, hiking and running. Forney Creek Trail originates at Sally's YMCA and is a natural surface trail that meanders approximately 1.1 miles along Forney Creek, connecting to Catawba Springs Preserve in Lincoln County. The trail is located withing 85 acres of land preserved by the Catawba Lands Conservancy.
Need expert advise on finding your perfect lakeside property? Call Debbie today to learn about Norman Estates and all the communities that Charlotte and Lake Norman have to offer.