Verdict Ridge
Verdict Ridge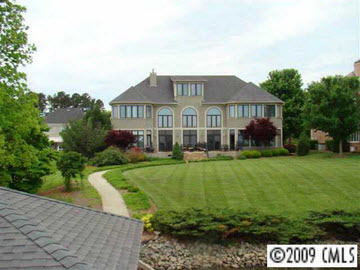 An unparalleled golf experience is the centerpiece of this luxurious, yet personable golf and country club community. Verdict Ridge's magnificent golf course is a pleasure and a challenge for all skill levels and all are encouraged to participate. Sports memberships and social memberships are available. The golf instructors are adept at working with all levels and are famously personable, making everyone feel at home.
But the golfing experience at Verdict Ridge is only part of the community's full offering of amenities that includes, a driving range, clubhouse, swimming, tennis, fitness center, playground area, casual and fine dining. The fitness center offers personal training and makes everyone feel comfortable and at home, no matter what the individual's current fitness level may be.
Located on an historic site, Verdict Ridge and the surrounding property were once part of the Catawba Springs Hotel and Resort. There are eight natural springs on the Verdict Ridge property and in the past, the springs were believed to have healing powers – some at Verdict Ridge are still looking for the fountain of youth!
The development is 526 acres and is located on a quiet shore of Lake Norman in Denver, North Carolina. Both existing homes and lots are available. Rolling hills and the breathtaking landscape provide a perfect backdrop for waterfront, water view and wooded home site. Existing homes that are available in Verdict Ridge all offer exceptional views and vistas and range in price from the mid $300s to $1 million plus.
Only five minutes from Verdict Ridge, at the intersection of NC Hwy 16 and NC Hwy 73, are two major shopping centers and many stand-alone establishments ready to meet the needs of area residents, including stores like Lowes Home Improvement, Wal-mart, Harris Teeter grocery store, Bicycle Shop and other specialty shops.
Great entertainment venues are all just minutes away as well. Whether you love sports, shopping, theater and music, all that Charlotte and the surrounding area have to offer is just minutes away. Time Warner Arena, the Blumenthal Performing Arts Center, Bank of America Stadium, Discovery Place, the Mint Museum Uptown, Levine Museum of the New South, and ImaginON are all an easy drive down I-77.
With Charlotte just down the road, Verdict Ridge allows residents to enjoy a quiet waterfront setting in a peaceful setting without giving up the pleasures of a thriving metropolitan area. Golfers can test their accuracy with Verdict Ridge's fairways, water hazards and sand traps in the daytime, and head down the road for an evening of dining and entertainment in the big city. Or stay near at the lake and enjoy casual or fine dining without leaving the country club. Verdict Ridge's very own Guilties Bar and Bistro features light fare, traditional American favorites and fine dining.
At Verdict Ridge, you truly can have it all. Verdict Ridge is "one stop shopping" for family fun, entertainment, peaceful vistas, sports and recreation, but it is an easy ride to all that the greater community has to offer.
Need expert advise on finding your perfect lakeside property? Call Debbie today to learn about Verdict Ridge and all the communities that Charlotte and Lake Norman have to offer.